So, I haven't been doing so much knitting these last couple of days. Mr Wonderful just finished up w/ Tax Season on Friday and we are taking a long weekend to spend some time and play "relationship catch-up." As part of our fun, he got tickets to see the Dodgers on Saturday night, which you are probably saying "fun, how is a baseball game fun?" but it was great! I've become a HUGE (figuratively and literally...see how round my face is)Dodger fan and really enjoy watching them. I don't know squat about any other baseball team though. It's just a Dodger love...
So here we are down below. My mom took the pic (she and my dad came with). We had great fun eating crappy, processed food and cheering and being obnoxious. Woo hoo!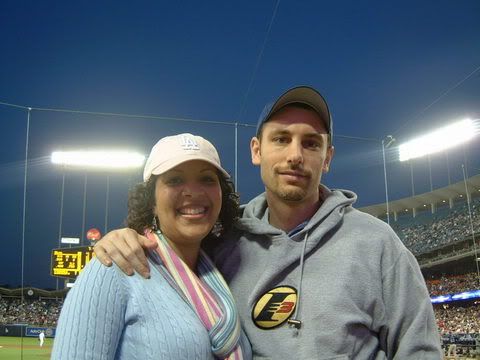 As for knitting, I am still working that Cable 8 sweater. I am about 65% done now and pretty excited about that. Cables rock and this sweater is easy peasy. Just gotta figure out how I am going to crochet it together when I can't crochet (yet)! I will post knitting-related pics soon!